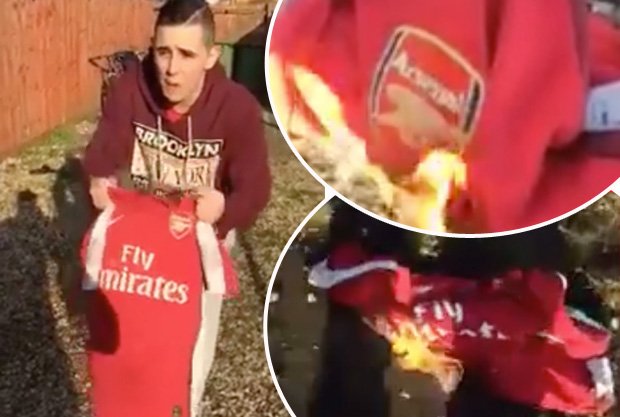 A video is being shared around social media of one Arsenal fan reacting badly to Sunday's FA Cup defeat against Watford. 
The 'Wenger Out' brigade is once again in full voice as many fans believe the defeat to the Hornets effectively ended their season. More after the cut…
Arsenal's FA Cup exit at the hands of Watford sent this fan over the edge in what has proved to be a difficult few weeks for supporters. The 2-1 loss at the Emirates saw fans fighting outside the ground, and it led to this fan burning his shirt and turning on Arsene Wenger.
In a video uploaded to Facebook, he is seen burning the home kit while launching a foul-mouthed tirade against Wenger.
One supporter attempted to show his disdain for the current plight of the Gunners by burning his Arsenal shirt. However there was a problem, as his attempt to destroy his jersey failed for several moments. Eventually the ranting supporter did manage to achieve his objective
'If he [Wenger] is at the f****** club at the start of next season this will happen to every Arsenal shirt,' he shouts.